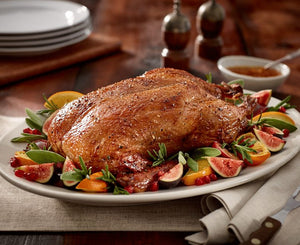 Whole Duck, King Cole (4.5 lb)
King Cole Duck, are 100% natural with no additives, preservatives or antibiotics. Simple and easy to prepare, a roast duck dinner is a guaranteed crowd pleaser with rich, tender meat and crispy skin.
How to Order (Qty):   by piece
Average Size:     4.5 - 5 lb
From King Cole Farms, Stouffville, Ontario.  Frozen product.