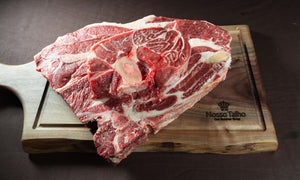 Traditional Azorean Alcatra (approx. 7.5 lb)
A traditional Azorean dish, approximately  3.5 kg of beef and a piece of bacon.  This braised beef dish is traditionally made in a clay dish (which is available separately).  This dish serves a large family, and left overs reheated the next day taste even better.
How to Order (Qty):   By piece
Average Size:     7-8 lb
Cut from AAA beef.  Pasture raised and finished on grains to promote marbling and flavor. Hand selected from our exclusive network of local Ontario farmers.