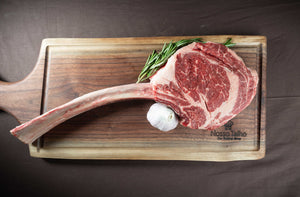 Tomahawk Steak is one of the most visually impressive steaks money can buy.  Featuring a thick rib eye at one end and will have 6-8" of the frenched rib.  This is a specialty cut made to impress. 
How to Order (Qty):   By piece
Average Size:     48 oz +/- 4 oz
Cut from AAA+ beef.  Pasture raised and finished on grains to promote marbling and flavor. Hand selected from our exclusive network of local Ontario farmers. 
*Sold by weight, Frozen