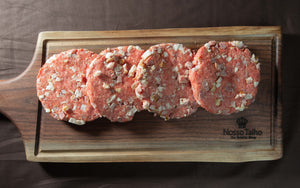 The BBBBurger! (4 x 8 oz)
The BBBBurger! (The BIG BEEFY BACON BURGER!) is our premium burger.  It is an 8 oz burger made with our premium angus beef  and infused with REAL natural bacon bits.  Do I need to say more.....
How to Order (Qty):   Package of 4 BBBBurgers!
Average Size:     4 x 8 oz
Price per lb:      $14
Made from AAA+ beef.  Pasture raised and finished on grains to promote marbling and flavor. Hand selected from our exclusive network of local Ontario farmers.