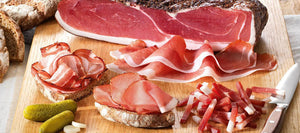 Speck (Austrian) (1/2 lb)
peck is a type of cured, lightly smoked ham. Although a close cousin to prosciutto crudo, speck is worthy of its own distinction when it comes to cured hams.
How to Order (Qty):   1/2 lb
Sourced and produced by Nosso Talho approved partner. Cut fresh in store for maximum freshness and satisfaction.