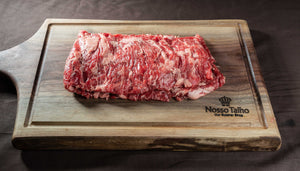 Skirt Steak also known in south america as Arrachera, or Fraldinha.  This cut is prized for it's flavor not tenderness. Best prepared marinated and definitively cut against the grain once cooked.
How to Order (Qty):   By piece
Cut from AAA+ beef.  Pasture raised and finished on grains to promote marbling and flavor. Hand selected from our exclusive network of local Ontario farmers.