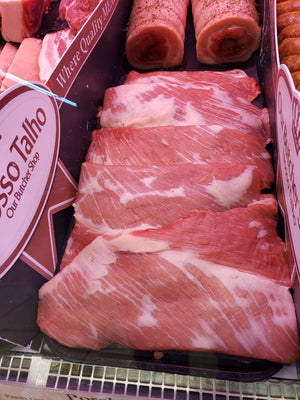 "Secretos de Porco"  translates from Portuguese to "Secrets of Pork".  The name comes from the fact that it is a hidden gem, difficult cut to find, and considered a butchers secret. Only 2, 12 oz pieces are found in the whole animal.   It is extremely well marbled.
Load it with salt and grill on high heat.  Cut against the grain when eating. Extremely popular in the streets of Portugal.
How to Order (Qty):   Pc
Average Size:   12oz
Price per lb:     $7.99 /lb
Comes from Fresh Ontario Pork, processed in house by expert butchers just for you.