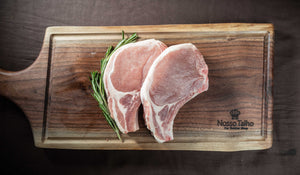 Pork Rib Chop, cut 1" (10 - 12 oz)
Pork Rib Chop is cut from the Rib, cut 1" thick, are tender and have a light flavor.  It tends to have more fat than the Loin Chop, so a tiny bit more forgiving when cooking and won't dry out as easy as something leaner. 
All our pork is sourced from our exclusive network of Ontario Pork Farmers. Naturally raised and processed by our experienced and professional butchers for you.