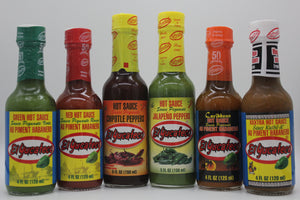 El Yucateco Hot Sauces (120 ml)
El Yucateco hot sauces is a product of Mexico.
Available Green Hot Sauce, Red Hot Sauce, XXXtra Hot Sauce, Chipotle Hot Sauce and Black Hot Sauce.

How to Order (Qty):   By Unit

Average Size:    120 ml
Price : $3.99 to 4.69 each
Imported from Mexico.