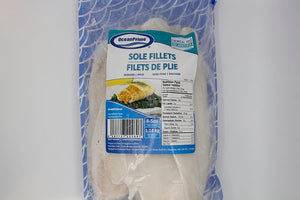 Sole fillets, OceanPrime (2.5 lb)
Sole fish can be prepared in a number of different ways. Including frying, poaching, deep-frying, or cooking in the oven – the lean meat is very tasty. The fish goes particularly well with butter, parsley, sage, lemon, button mushrooms, cranberries, or potatoes.
How to Order (Qty):  By Package
Frozen product sourced from a Nosso Talho approved processor.