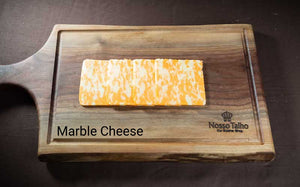 Marble Cheddar Cheese is a delicious blend of white and orange cheddars. A medium cheese rich in flavor with a light nutty note, while firm in texture. Perfect for snacking, shredding, entertaining, melting, cooking, and topping off dishes.
How to Order (Qty):   1/4 lb
Average Size:     1/4 lb
Price per lb:      $13.79
Sourced locally and produced by Nosso Talho approved partner. Cut fresh in store for maximum freshness and satisfaction.