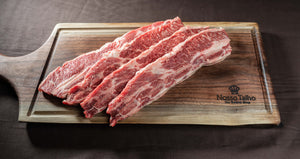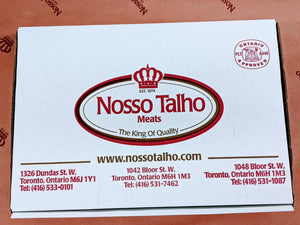 Miami Cut (Kalbi-style) Short Ribs (9 lb) (3 x3 lb)
Thinly sliced, cross-cut short ribs are marinated for tenderness and cooked on a very hot grill. Cut 1/4 - 1/2" thick. 
Buy More SAVE More -   3 x 3 lb vacuum packed packages.
SAVE 10 - 20 %
How to Order (Qty):   By case 
Average Size:     Appox 9 lb (3 x 3lb)
Price per lb:      $89.99 (9.99/lb)
Cut from AAA+ beef.  Pasture raised and finished on grains to promote marbling and flavor. Hand selected from our exclusive network of local Ontario farmers. 
ON SALE!!!