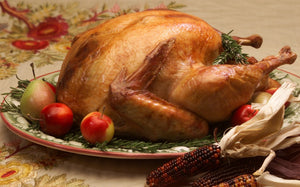 Turkey, Whole Grade A (available starting Dec 19th)
Grade A, Fresh Turkey.
When determining a size of turkey plan for at least 1.5lb (0.75 kg)per person.  So 8 people will be 12/lb or (6 kg).
How to Order (Qty):  by pc
Size:   3-5kg,  5-7 kg, 7-9 kg, 9-11 kg, and 11 kg+
Sourced from a local Ontario farmer. Port Heron County Turkey.