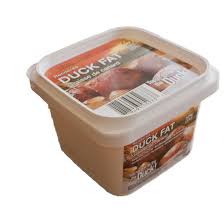 The delicate, yet distinct flavor of duck fat makes a unique replacement for butter or oil in the preparation of sauteed vegetables, potatoes, sauces and stocks. Or try pan-fried meats in duck fat for a new gourmet taste!
How to Order (Qty):   by package.
 Size:     300 grams
Price per package :    8.99 ea
From King Cole Farms, Stouffville, Ontario.