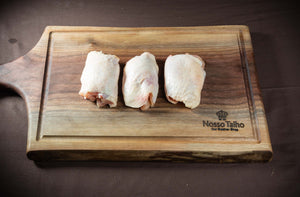 Chicken Thighs, Skin on and bone in (lb)
Chicken Thighs, skin on and bone in, this a popular dark meat cut, will be more moist than the breast.
How to Order (Qty):   By lb
Average Size:    3 -4 pc per lb
Price per lb:      3.99 /lb
Sourced from our exclusive network Ontario poultry farmers.  This chicken is naturally raised and processed in store by our experienced and professional butchers.