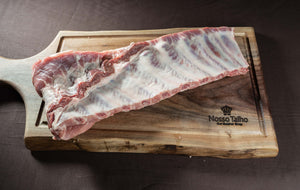 St. Louis-Style Ribs (Avg. 3 lb)
St Louis-Style Ribs are essentially the pork spare rib with the breast and flank removed resulting in just the the rib.  These are typically more fattier than the pork back ribs with make them easier to brown.
How to Order (Qty):   By piece
Average Size:     3.00 lb
Price per lb:      5.99 /lb
All our pork is sourced from our exclusive network of Ontario Pork Farmers. Naturally raised and processed by our experienced and professional butchers for you.