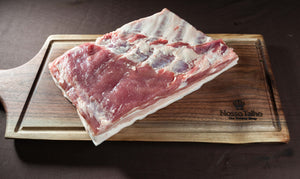 Pork Belly, skin on, rib on
Pork Belly is the underside of the belly, used primarily for making bacon.  This is the raw cut can be slow roasted roasted to render the fat and increase the flavor. Make your own bacon, or smoke it.
How to Order (Qty):   By piece
All our pork is sourced from our exclusive network of Ontario Pork Farmers. Naturally processed by our experienced and professional butchers for you.