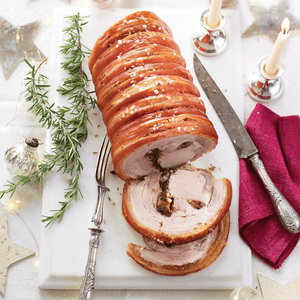 Porchetta,  slow-roasted fennel-scented juicy pork surrounded with crisp, crackling skin, is the perfect centerpiece for a special-occasional meal. While most recipes call for pork loin and pork belly, this all-belly version makes for an extra-aromatic, crispy and salty twist on the classic, and it comes together easily once you have the right piece of meat.

Preheat oven to 300 F and cook slowly until an internal temperature of 160F, while basting with oil drippings every half hour.  Then raise oven temperature to 500F and rotate porchetta until all sides have hard crackling.  Rest for 20 mins and serve.
Plan for 1 lb per person (there will be no left overs).  Buy extra to have the next day in a sandwich or heat and serve.
How to Order (Qty):   By Size
Average Size:    (depending on option)
Price per lb:      6.49 /lb
All our pork is sourced from our exclusive network of Ontario Pork Farmers. Naturally processed by our experienced and professional butchers for you.