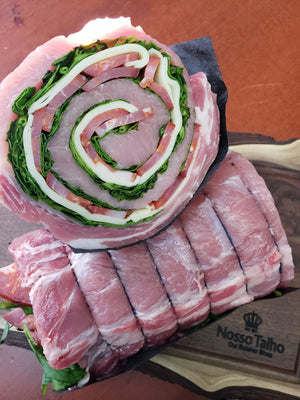 This Pinwheel Pork Loin Roast is stuffed with spinach, mozzarella, and our authentic chourico. 
Season lightly and roast @ 350 F in oven until internal 145 to 160 F (approx. 1.5 hrs).  Raise oven to 475F for the last 10 min to sear and brown the outer layer. Let it rest for 30 minutes before serving.  
How to Order (Qty):   Full Roast or half
Average Size:     8 lb or 4 lb
All our pork is sourced from our exclusive network of Ontario Pork Farmers. Naturally processed by our experienced and professional butchers for you.