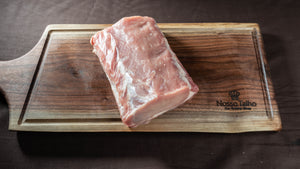 Boneless Pork Loin Roast is a economic and nutritious protein option.  Simply preheat oven to 375 degrees, coat you pork loin with your favorite seasoning or rub, place in oven with fat cap on top and cook for 60-75 min until you reach an internal temperature of 150-160 degrees.
You have your choice of the Center Loin (Leaner option) or Rib Loin End (Fattier option)
How to Order (Qty):   By piece
All our pork is sourced from our exclusive network of Ontario Pork Farmers. Naturally processed by our experienced and professional butchers for you.