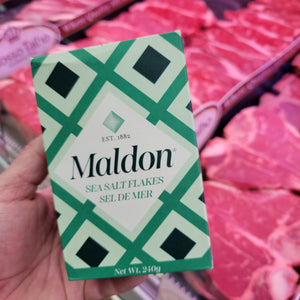 Infamous quality. Accept no substitute; because nothing else is quite the same.
Maldon Salt is loved by Chefs and shoppers from around the world. It's soft flakey texture of the sea salt crystals and the cleanness of the salt flavor they deliver that makes the difference.  None of the bitter after taste that some salts leave; instead a freshness that enhances the flavor of all the natural and fine foods.
Use as a finishing salt on all your premium steaks and notice how it enhances the steak to another level.