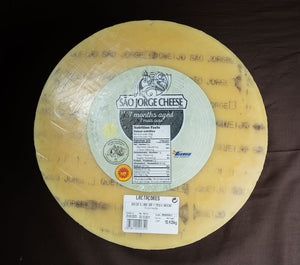 Island Cheese - Sao Jorge - 7 Months - (1-1.25 lb)
Queijo Sao Jorge 7 Meses- Uni
From the best that São Jorge Island has to offer, we have been creating a distinct cured cheese, with semi-hard paste, for centuries.São Jorge DOP Cheese with 7 months of aging is a product with a strong, clean and spicy aroma, obtained from raw cow's milk, salt and rennet. It is a cheese that can be tasted on a cheese board accompanied by an intense wine so that there is a balance of flavors.
Available in whole format, quarters, and slices.
How to Order (Qty):   By Pc
Imported from Azores Portugal.