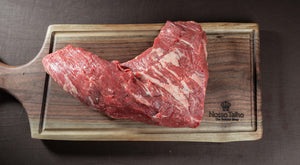 Tri tip, (also know to Portuguese as Maminha de Alcatra) is a triangular piece of meat that comes from the lower part of the sirloin.  Very versatile and flavorful cut.  used for roasts, steaks, stews, fast fry etc. 
How to Order (Qty):   By piece
Average Size:     3 lb
Cut from local AAA+ beef.  Pasture raised and finished on grains to promote marbling and flavor. Hand selected from our exclusive network of local Ontario farmers.