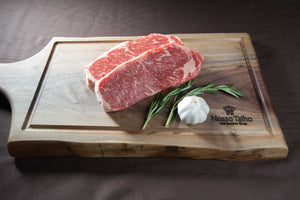 Striploin Steak, AAA+ (pc)
Striploin steak is one of the most flavoursome steaks and its almost as tender as fillet, cut from the middle so you got more prime meat for your money.  
Cut to order by our professional Butchers just for you!
How to Order (Qty):   By piece
Cut from AAA+ beef.  Pasture raised and finished on grains to promote marbling and flavor. Hand selected from our exclusive network of local Ontario farmers.