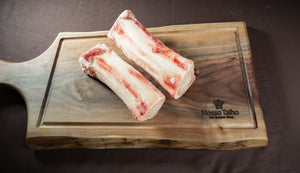 You can use marrow bones to make bone broth, or you can roast the bones and use the marrow the same way you would use butter -- spread it on toast, or roast vegetables with it, or let it melt over your steak while it's resting.
How to Order (Qty):   By piece
Average Size:     22 oz (6" Bone)
Price per lb:      3.99 /lb
Cut from AAA+ beef.  Pasture raised and finished on grains to promote marbling and flavor. Hand selected from our exclusive network of local Ontario farmers.