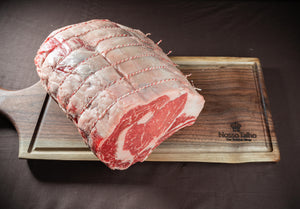 Prime Rib Roast, AAA (pc)
It is the king of beef cuts. It's called a standing rib roast because to cook it, you position the roast majestically on its rib bones in the roasting pan. Beautifully marbled with fat, this roast is rich, juicy, and tender—a feast for the eyes and the belly. It's also very easy to cook.
How to Order (Qty):   By number of bones
Average Size:    6 lb (2 bone)
Price per lb:      17.99 /lb
Cut from AAA+ Beef, pasture Raised and finish on grains to promote marbling and flavor. Hand selected from our exclusive network of local Ontario beef farmers.