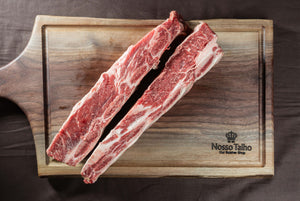 Braising Short Rib, 2" cross cut (1.5 - 1.75 lb)
You can braise these short ribs in basically any liquid you want. The short ribs come out so delicious and tender, and there is not an overwhelming sauce to overpower them. These are cut  2" thick. Each contain 4 bones.
How to Order (Qty):   By piece
Cut from AAA+ beef.  Pasture raised and finished on grains to promote marbling and flavor. Hand selected from our exclusive network of local Ontario farmers.