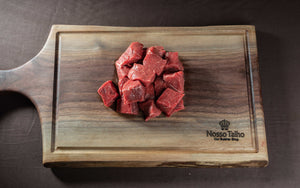 This classic beef stew is the ultimate cold weather comfort food.  Add your choice of root vegetables  and after a few hours in the over, the meat becomes meltingly tender and enveloped a rich flavor. 
How to Order (Qty):   Packages of 1, 2 or 5 lb
Cut from AAA+ beef.  Pasture raised and finished on grains to promote marbling and flavor. Hand selected from our exclusive network of local Ontario farmers.