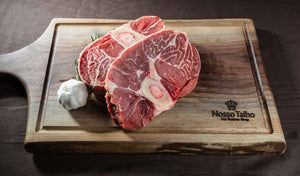 Beef Osso Bucco (1.25 - 1.5 lb)
The meat cut in Beef Osso Bucco is a cross-cut of beef from the shank that's around an inch and a half thick. It's a pretty thick meat cut but it becomes deliciously flavorful and tender when braised.
How to Order (Qty):   By piece
Cut from AAA Beef, pasture Raised and finish on grains to promote marbling and flavor. Hand selected from our exclusive network of local Ontario beef farmers.