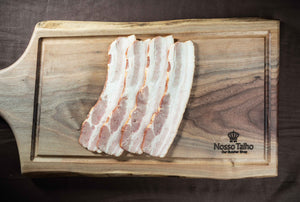 Thick Cut, Double Smoked Bacon (lb)
Double Smoked Bacon, its a thick-cut, hand-trimmed pork belly smoking over a blend of real wood chips. And then it's smoked again. The result is a rich, hearty flavor more intense than any other.  
How to Order (Qty):   lb
Average Size:     lb
Price per lb:     $8.99 /lb
Sourced locally and produced by Nosso Talho approved partner. Cut fresh in store for maximum freshness and satisfaction.