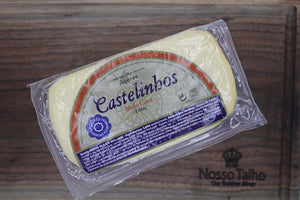 Castelinhos Cheese (400 Grams)
Aged for a month, Castelinhos has a smooth buttery texture and delicate flavor, with hints of fresh fruit and herbs. The bark is washed with brine for development.
Its melting texture makes Castelinhos ideal on hot bread, as an aperitif, as a spread, and as a dessert.
 How to Order (Qty): By 1/2 pc
Average Size: 400 Grams
Price: $15.49/ea
Imported from  Azores Portugal.