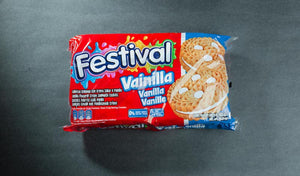 Vanilla Cookies - Festival (403 grams)
If you were looking for a time full of cream and fun, Festival is the perfect cookie for you. The delicious flavors will drive you crazy, and you will share moments of luxury with your friends.
How to Order (Qty):   By Package

Average Size:   403 grams

Price: $2.29
Imported from Mexico.

Flavors: Vanilla, Chocolate