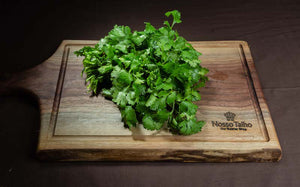 Use cilantro in salsa, spreads, pasta, and noodles, and more. It's best to add the chopped leaves at the last or at the end of cooking. Once you've used all the leaves with stems, don't toss the bottom stems. You can finely chop them, too, or use them in marinades, brines, or poaching liquid. Sometimes you will find fresh cilantro with its root, which is also edible. It's used in many Thai dishes.
How to Order (Qty):   By bunch
Average Size:    
Price per unit:  $2.49
Sourced from a local Ontario food terminal.