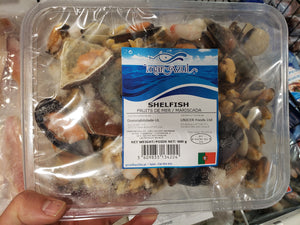 Shelfish, Fruits de Mer/ Mariscada (900 gms)
Mariscada is an Atlantic Seafood inspiration based on rice and very popular along coastal Portugal. The dish often has lobster, shrimp, clams, mussels, as well as cuttlefish and is seasoned with olive oil, sea salt, pepper and Portuguese paprika.
How to Order (Qty):   By Package
Package Size:     900 grams
Price:   14.49 each
Imported from Portugal. Frozen.