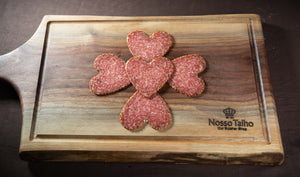 D'Amour Salami is German style pork salami with a tender, creamy texture, seasoned with a gentle touch of black pepper, and mild, warming aftertaste. Made in a unique, heart-shaped casing. Can become a gem of your cheese plate, and impress your guests!
How to Order (Qty):   1/4 lb (113.5 grams)
Average Size:     4/5 slices 
Price per lb: $17.50
All our charcuterie are from Nosso Talho approved processors.