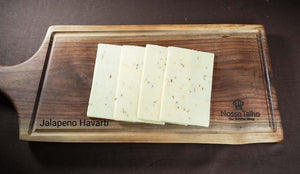 Jalapeño Havarti Cheese (1/4 lb)
Native to Denmark, Havarti has presented itself as an original take on sliceable cheeses with a creamy body. Being a semi-hard cheese, it has a springy texture with subtle sweet and acidic notes. Lusciously smooth, Havarti is balanced and mild enough to suit all palates, with the piquant flavors harmonizing perfectly with salads, sandwiches as well as on its own. Offered here in the Jalapeño version.
How to Order (Qty):   1/4 lb
Average Size:     1/4 lb
Price per lb:     $15.00/lb
Sourced locally and produced by Nosso Talho approved partner. Cut fresh in store for maximum freshness and satisfaction.