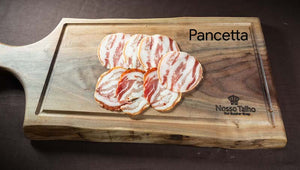 Pancetta is sometimes sold sliced paper-thin or cubed. The thin slices can be wrapped around vegetables or meat before cooking. The pancetta cubes are often used like bacon, sautéed with onions, or garlic to form the base of a soup, pasta, or risotto.
How to Order (Qty):   1/4 lb
Average Size:     1/4 lb
Price per lb:      $23.45 /lb
Sourced locally and produced by Nosso Talho approved partner. Cut fresh in store for maximum freshness and satisfaction.